Mindaugas Bernatonis

CC.I #2236
Street/P.O.Box

Members only, login to view

Postal code

Members only, login to view

City

VILNIUS

Country

Lithuania

Nationality

Lithuania

Languages

English, Russian, Lithuanian

Occupation

Protection of environment

Birth year

1978

Start collection

2011

Gender

Male
Last action

4 Apr 2022 12:02 UTC +03:00
Email
Liner

Only cork

Condition

Used only

Products

Only beer

Region

Worldwide
Specific interests

LOGO of breweries, UNIQUE micro-breweries, CRAFT beer caps - local and global.

Miscellaneous

Only used BEER caps in perfect condition. Want caps from exotic countries.

Favorite caps

Beer caps with LOGO of the brewery.

Storage system

CD cases. Special holders for crown caps.
Blind trading

Yes
Favorites: Countries

Germany

United States

Poland
Last counted

4 Apr 2022

Ranking

490

Collection size

10134

Countries

129

Most represented country

Germany -

1911

Inside prints

No

Factory signs

Yes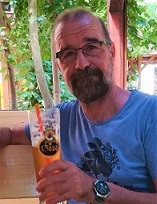 Great exchange and great contact with Mindaugas! Caps in very good condition, friendly atmosphere during the exchange. I recommend the collector to others, it's really worth it.
Thank you Mindaugas for the exchange.
26 January 2022
Dear Norbert, thank you for great exchange of beer caps. This was very fast and professional. All caps in perfect condition. My honest recommendations!! Kind regards :) 2022-01-24
27 January 2022
Great trade. Very good collector. Recommended.
22 December 2021
To: Jordi Simon (ESP). Thank you for the great exchange! Perfect communication. My honest recommendations.
Mindaugas (LTU). 2021-12-27
29 December 2021
A serious and reliable collector. Thank you, Mindaugas, for this trade
25 October 2021