Renno Langeraert

CC.I #312
Street/P.O.Box

Members only, login to view

Postal code

Members only, login to view

City

Members only, login to view

Country

Netherlands

Nationality

Netherlands

Languages

Nederlands, English, Deutsch

Occupation

Chemical engineer

Birth year

Members only, login to view

Start collection

1984

Gender

Male
Last action

23 Jan 2021 23:56 UTC +03:00
Email

Members only, login to view

Website address
Liner

All

Condition

All

Products

Only beer

Region

Worldwide
Specific interests

Beer caps from the Netherlands

Miscellaneous

I collect beer caps of brands from the Netherlands also on factory signs and inside pictures. I have in my collection also some the inside sets and sets from non beer products.

Favorite crowns

Old Dutch cork-lined beer cap: Brouwerij De Witte Leeuw Sluis (red/white)

Storage system

Negative preserver sheets, first I sorts them by some categories (Dutch, Belgium, only pictures, only one letter, the rest) and than I put them in on first received first stored basis. I put them also in a database. My dutch caps are on the whole of my hobby room on circles from carpet.
Blind trading

No
Favorites: Countries

Netherlands

Belgium

Germany
Ranking

74

Collection size

44455

Countries

190

Most represented country

Germany -

10236

Inside prints

No

Factory signs

No
Very good trade! Thank you!
30 December 2020
One of the most pleasant trades I 've ever done. Caps in perfect condition, most of them unused.
14 November 2020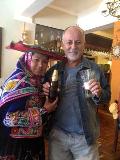 Very serious collector.
26 February 2020